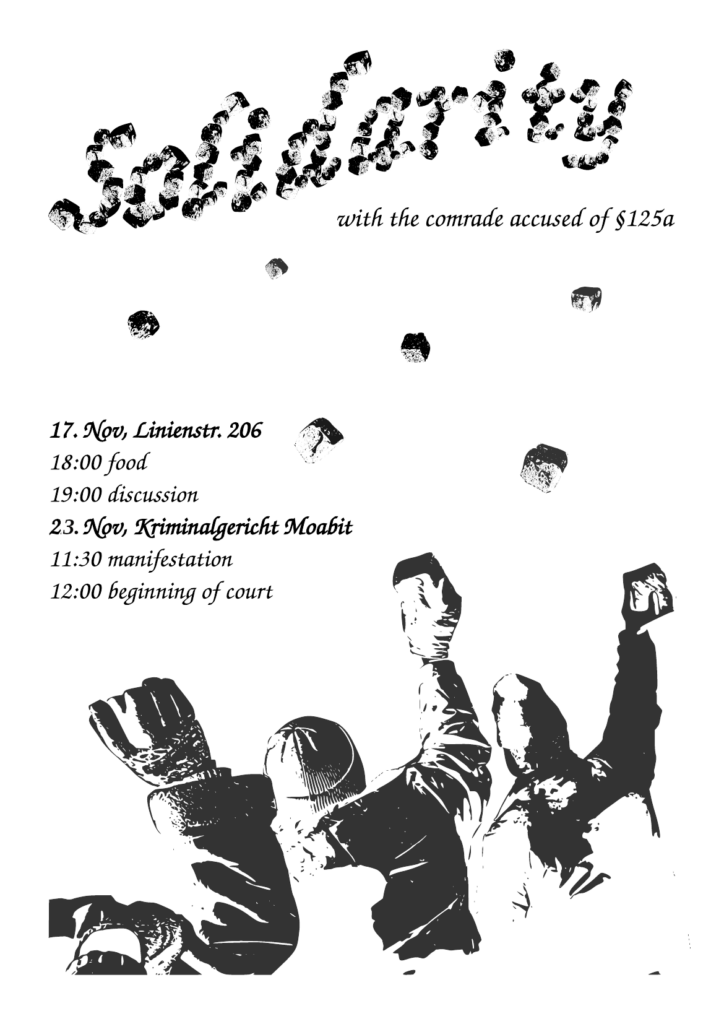 Am 22. November wird es am Amtsgericht in Moabit einen Prozess wegen der Demo am 1. August 2020 geben.Die Demo fand nicht nur kurz vor der Räumung des Syndikats statt sondern war auch der Auftakt kämpferischer zwei Jahre der Interkiezionalen Bewegung. Unter dem Motto "Raus aus der Defensive" wurde mit dieser Aktion der Grundstein für eine Serie von Kämpfen gegen die Räumungen verschiedener Orte gelegt, die der Gentrifizierung im Wege standen.
Dem Motto entsprechend wurde das Konfliktniveau hoch angesetzt und die Mobilisierungsfähigkeit in mehr als den direkt betroffenen Milieus unter Beweis gestellt. Dem offensiven Auftreten wollte der Staatsapparat im Dienste der Immobilienwirtschaft natürlich präventiv entgegentreten, da durch den bedeutenden Zusammenschluss in der Interkiezionale eine längere Phase kontinuierlichen Kampfes auf der Straße beschlossen und verkündet war. So kam es während der Demo zu einigen Festnahmen, die die kämpfenden Menschen davon abschrecken sollten, den eingeschlagenen Kurs einzuhalten, der eine Verunmöglichung von Räumungen durch eine Kraft von unten vorsah. Dies hatte in sofern keinen Erfolg, als jede der kommenden Räumungen intensive Auseinandersetzungen und zahlreiche direkte Aktionen mit sich brachte, die jede für sich und in der Gesamtheit ein politisches Vermächtnis hinterliessen. Mit der Verteidigung der Rigaer94 ein Jahr später konnte dann tatsächlich eine militärisch und politisch minutiös geplante Räumung verhindert werden und die anschließende Mobilisierung zur Rache für die Köpiplatz-Räumung ging weit über die bisherigen Potentiale hinaus.
Eine Genossin ist nun angeklagt, an der "Raus aus der Defensive" Demo einen Stein auf den Gentrifizierungs-Neubau an der Ecke Flughafenstraße/Hermannstraße geworfen zu haben.
Als Bewegung ist es uns Verantwortung und Vergnügen, der Genossin kämpferisch zur Seite zu stehen und der Repression gemeinsam ins Auge zu sehen. Daher versammeln wir uns am 22. November, vor und während des Prozesses vor dem Gericht in Moabit.
22.11, 11:30, RAUM D 107, Wilsnackerstr. 4, Moabit
[eng]
On November 22nd, there will be a trial in the district court in Moabit because of the demonstration on August 1st, 2020. The demonstration did not only take place shortly before the eviction of Syndicat, but was the starting of two militant years of Interkiezionale movement. With the slogan "Raus aus der Defensive" ("Get Out Of the Defensive") of this action, the base for a series of stuggles against evictions of various places that stood up against gentrification, was set.
According to the slogan, the level of conflict was called and the power of mobilisation in more than only the directly affected milieu was proven. Of course, the state apparatus in the service of the real estate industry wanted to counter the offensive appearance preventively, since a longer phase of continuous struggle on the streets had been decided and announced by the significant union in the Interkiezionale. Thus, there were some arrests during the demonstration, which were intended to frighten off the people in struggle from following the line that had been set, which was to make evictions impossible through a force from below. This was unsuccessful insofar as each of the coming evictions created intense confrontations and numerous direct actions, each of which left a political legacy in itself and in the whole. The defense of Rigaer94 a year later actually prevented a militarily and politically detailed planned eviction. The mobilization for revenge for the Köpiplatz eviction afterwards went far beyond the previous potential.
One comrade has now been charged with throwing a stone at the new gentrification building on the corner of Flughafenstraße and Hermannstraße during the "Raus aus der Defensive" demonstration.
As a movement, it is our responsibility and pleasure to militantly support our comrade and to face the repression together. Therefore, we will gather on November 22nd, before and during the trial in front of the court in Moabit.
22.11, 11:30, ROOM D 107, Wilsnackerstr. 4, Moabit